DRS Supports CIF Top 50 Magazine launch - 3 July 2018
DRS Bond Management Limited ("DRS") was delighted to support the launch of the Construction Industry Federation ("CIF") Top 50 Contractors Magazine for 2018 at the Iveagh Garden Hotel in Dublin on 3 July 2018.
Over 200 attendees, including 48 of the Top 50 Contractors attended. Tom Parlon, Director General of the CIF, addressed the audience before the Top 50 countdown on big screens.
We would like to thank everyone who attended, including a number of DRS clients for supporting the event, along with our fellow sponsors, the British & Irish Trading Alliance ("BITA"), Ayming, Silver Shemmings Ash and the Irish Post.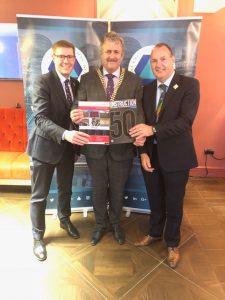 Chris Davies from DRS (left) and Paul Whitnell, President of BITA flank Dominic Doheny, President of the CIF.
Press Archive
Click below to explore press release archive
2020
2019
2018
2017
2016